18 Inch Kids Bike Toddler Bicycle with Removable Training Wheels & Adjustable Seat for Boys Girls
DETAILS
Cycling can not only help promote the healthy growth of children but also help them improve their balance ability. This training bike can help children quickly master riding skills under safe conditions. The 18" wheels are not only non-slip but also adaptable to different roads. Two auxiliary wheels improve the overall stability of the bicycle. To keep up with the growth rate of children, the detachable auxiliary wheels design meets the different needs of children of different ages. And the detachable basket facilitates children to store some daily items. More, we strictly select high-quality carbon steel materials to ensure the durability of the bicycle. And the splash guard can prevent muddy water from splashing on the child's clothes. Also, we have installed reflectors on the wheels and seats, ensuring the safety of children when riding in dim light.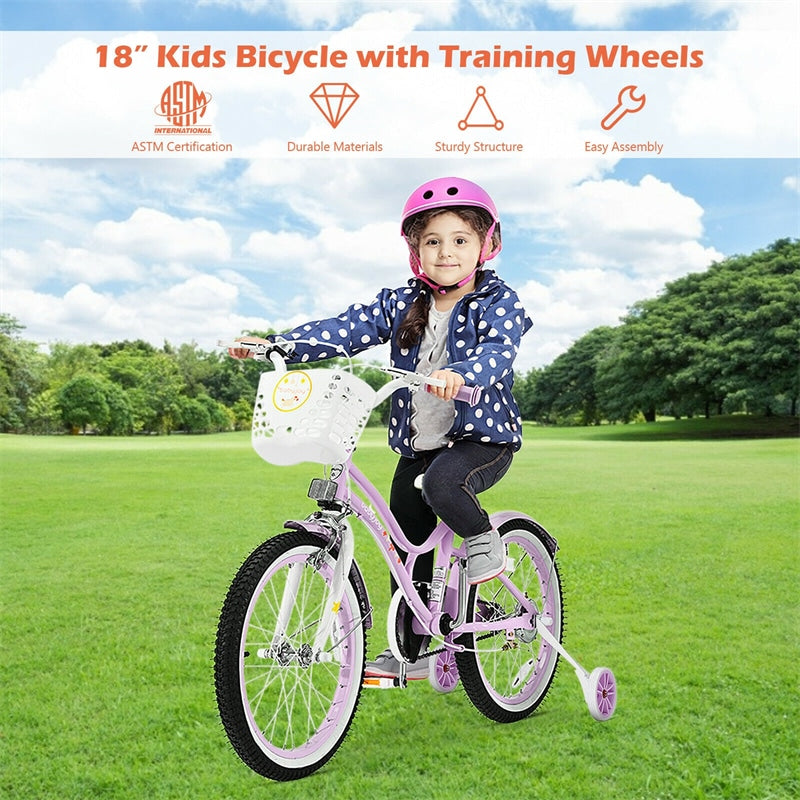 Features
Stable & Sturdy Construction: Made of carbon steel frames, this lightweight bicycle offers strong support for children, ensuring a long service life. Plus, the 2 auxiliary wheels enable it to form a stable and strong triangle structure to improve overall stability. Moreover, it comes with a front caliper brake and a rear brake to improve safety.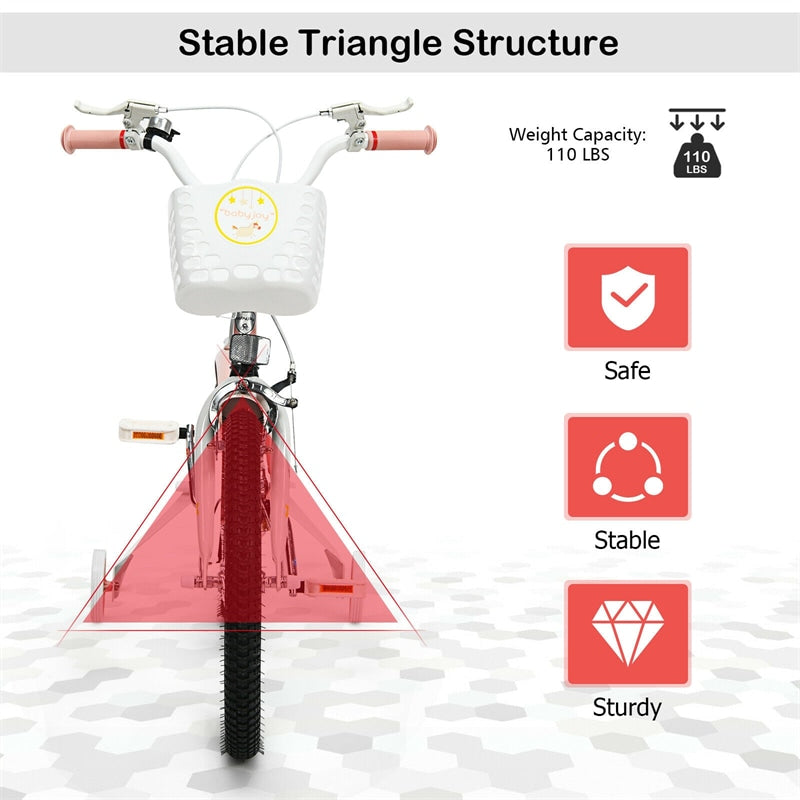 Removable Auxiliary Wheels for Easy Riding: When children's balance ability or riding skills are not so perfect, 2 auxiliary wheels can help them to ride better while ensuring their safety. Taking the growth of kids into consideration, this training bike is designed with auxiliary wheels to be detachable to meet the different needs of the children.
Height-Adjustable Seat: The height of the child changes quickly and greatly. In order to perfectly adapt to this change, this bicycle seat cushion height is designed to be adjustable. By adjusting the knob, the height of the seat can be adjusted easily, so that meeting your various demands.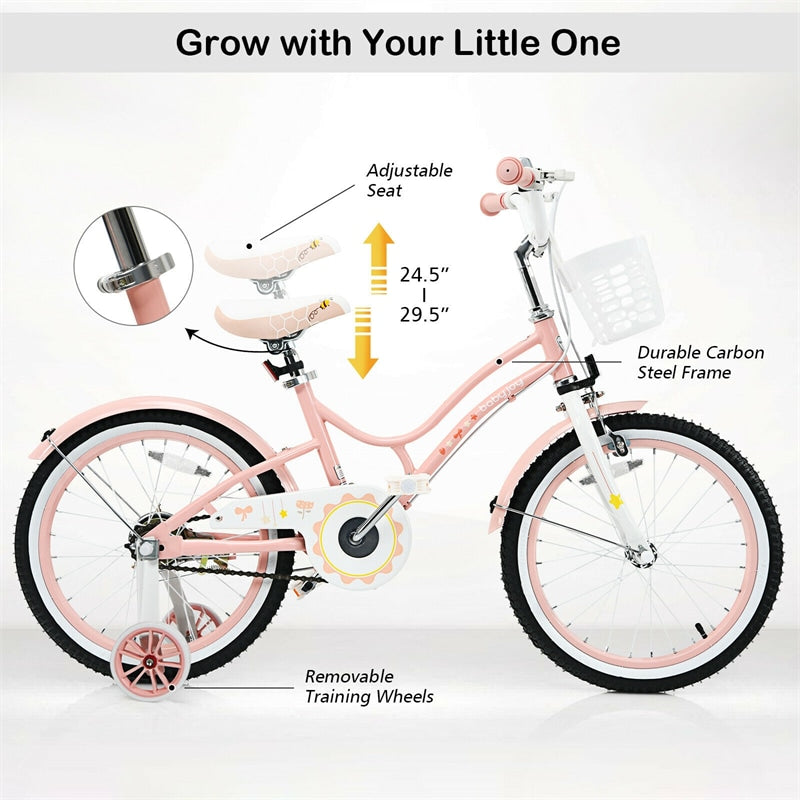 Simple Installation Process: Complete and detailed assembly instructions have been marked on the manual so that you can quickly get a complete training bike. Besides, non-slip pedals, reflectors, splash baffles, and ergonomic handles with bells provide you with more convenience.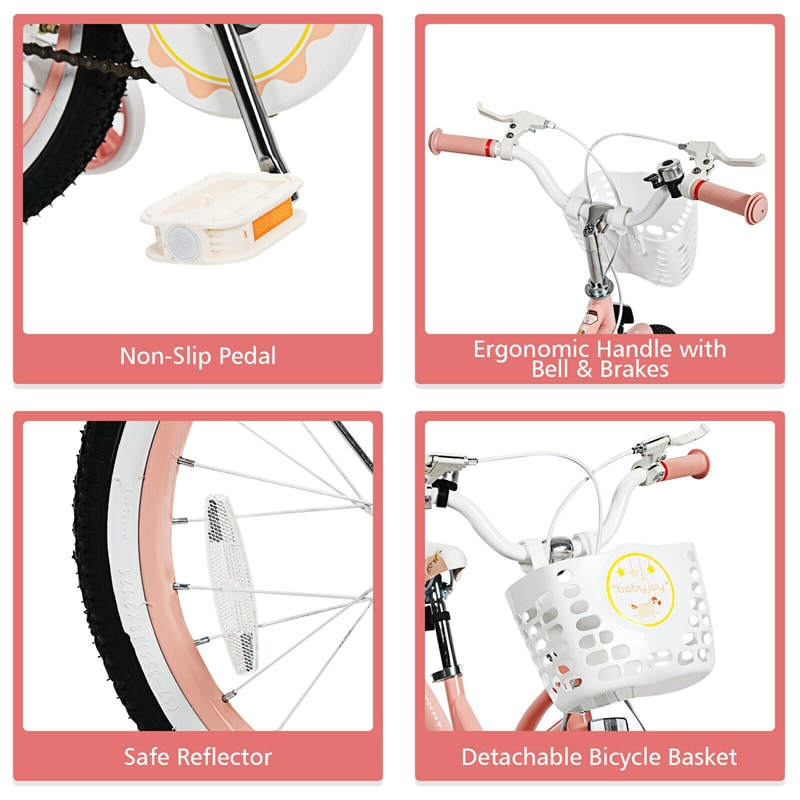 Perfect Gift for Boys & Gifts: This toddler bike is designed to help kids learn riding skills in a funny way and gradually master their balance. Apart from promoting the development of physical fitness, children's independence can also be effectively improved. What's more, it is equipped with two wear-resistant and non-slip tires, which are suitable for various roads to ride.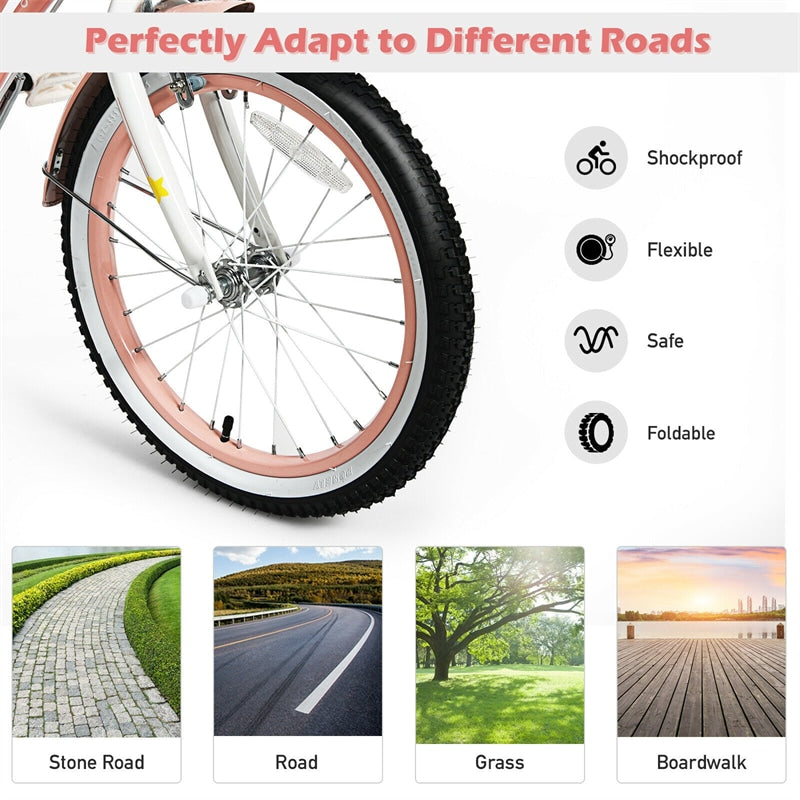 Specifications

Color: Pink / Purple
Material: Carbon Steel + Foam + PU
Product Dimension: 50" x 20.5" x 31" (L x W x H)
Adjustable Seat Height: 24.5"-29.5"
Wheel Diameter: 18"
Diameter of Auxiliary Wheel: 4.5"
Basket Dimension: 8.5" x 5.5" x 6" (L x W x H)
Product Weight: 25.5 lbs
Weight Capacity: 110 lbs
Suitable Age: 6-9 Years Old
Certification: ASTM, CPSIA
Package Includes
1 x 18 Inch Kids Bicycle
1 x Instruction