6Pcs 30lbs Canopy Weights Water Filled Weight Plates for Gazebo Tent Shade Umbrella
DETAILS
Made of premium PE material, these weight plates are durable and resistant to aging or cracking. The no-pinch design enables easy and safe installation without hurting fingers. The 1 1/4'' wide open slot is suitable for most canopy legs. What's more, each weight plate is designed with an injection spout, facilitating you to fill in water or sand to increase the weight to better hold down the canopy. If necessary, you can also choose to stack weight plates together. Compared with sandbags, the canopy weights are more beautiful and portable, perfect for outdoor activities such as picnics, parties, trade shows, etc. 
Features
High Quality & Durable Materials: Made of high-quality PE, the canopy weights are sturdy, wear-resistant, and not easy to crack. Due to the excellent blow molding process, our weight plates also have good weather resistance, which can prevent fading and aging caused by sun and rain.
Water/Sand Filling for Reliable Fixation: Each weight plate has a large diameter injection spout for filling with water or sand to increase weight. Even on windy days, your tent, pop-up canopy, or patio umbrella can be securely held down in place without being blown over.
Easy to Install & Stack: Featuring a no-pinch design, these weights are safe to install without hurting fingers. The open slot fits all canopy poles up to 1 1/4" wide, all you need to do is simply slide the weights onto any canopy leg. It's also worth mentioning that the male-female interlocking design allows the weight plates to be firmly stacked to enhance wind resistance.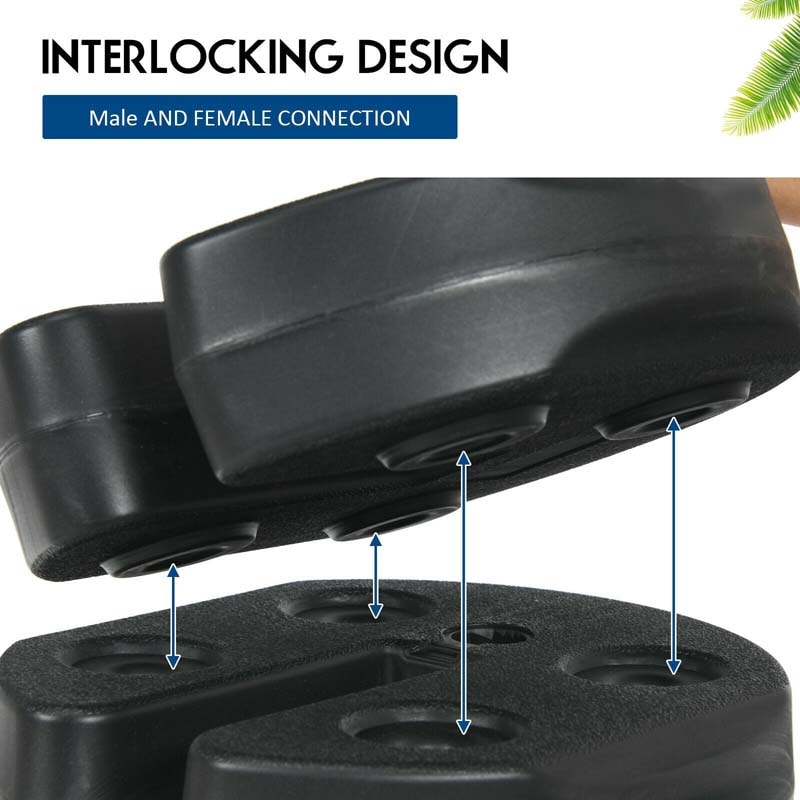 Suitable for Various Occasions: Compared with the bulky concrete bases and unsightly sandbags, our weight plates provide a more stylish look while ensuring excellent stability. You can use these weights on any occasion with canopies, such as trade shows, picnics, parties, and other outdoor activities.
Easy Carrying & Transportation: Our four-piece weight plate kit weighs only 3 lbs when empty, so it can be easily moved from one place to another. In addition, an included strap prevents the stacked weights from scattering while making them easy to carry and store.
Specifications
Color: Black
Material: PE
Product dimensions: 9.5'' x 9.5'' x 2.75'' (L x W x H)
Net weight: 4.5 lbs / set
Weight of filled with water: 5 lbs per plate
Pole size requirements: up to 1.25'' wide
Package Includes
6 x Weight plates
2 x Strap